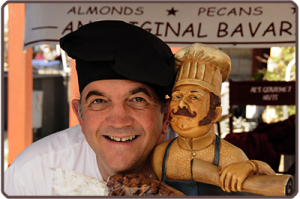 AL'S GOURMET NUTS is serious about nuts.  We aren't distributors; we are manufacturers with a private commercial kitchen capable of producing tons of gourmet nuts annually.  We are licensed by the state of Texas and are routinely inspected.  Our gourmet nuts are produced in small batches on a daily basis to maintain freshness.
We use only the finest ingredients and take great pride in our special handling during the production and packaging process.  Our product line is dry roasted with minimum amounts of sugar for the glaze.  We hand pack to ensure no sugar cubes.  There are no artificial ingredients or no preservatives; including no gluten, oil or dairy.  We don't use mass assembly lines; only family dedication to produce a great product.
The results are delectable gourmet nut delights that taste great and are also good for you! AL'S GOURMET NUTS commitment is to always purchase local and fresh.  What this means to our clients is our core ingredients are from local partners who offer quality ingredients.  Thus giving us full control over the finished product.  The following is our local ingredient connection with specialty vendors.
PECANS:  Our pecans are from some of the best growers in Texas.

PEANUTS:  Our peanuts are from some of the best growers in South Texas.
WINE:  If you have enjoyed one of the best top five wineries in Texas, Becker Vineyard, then you will appreciate our Becker Port Wine connection.

LAVENDER:  Picture a lavender farm situated on a beautiful Texas hilltop and you can appreciate Texas' lavender connection.  Who knew Texas has such wonderful lavender farms in the hill country?

HONEY:  Our honey is produced from the Guajillo brush that grows in South Texas.  Guajillo Honey flavor is very mild and light golden in color.  When you want the best honey, go directly to a beekeeper – Spalten Honey Company purest Texas Honey in Pleasant, Texas
Why purchase massed produced nuts that have been sitting on store shelves for months and years, when you can enjoy our fresh and delicious gourmet nuts made to order from team  AL'S GOURMET NUTS.